Home
>
Latin Authors and Literature
>
Horace
THE ODES AND CARMEN SAECULARE OF HORACE
Home
|
Prev
|
Next
|
Contents
---
BOOK I, ODE 7.
And search for wreaths the olive's rifled bower.
Undique decerptam I take, with Bentley, to mean "plucked on all hands," i. e. exhausted as a topic of poetical treatment. He well compares Lucretius, Book I, v. 927--
"Juvatque novas decerpere flores,

Insignemque meo capiti petere inde coronam Unde prius nulli velarint tempora Musae."

'Tis Teucer leads, 'tis Teucer breathes the wind.
If I have slurred over the Latin, my excuse must be that the precise meaning of the Latin is difficult to catch. Is Teucer called auspex, as taking the auspices, like an augur, or as giving the auspices, like a god? There are objections to both interpretations; a Roman imperator was not called auspex, though he was attended by an auspex, and was said to have the auspicia; auspex is frequently used of one who, as we should say, inaugurates an undertaking, but only if he is a god or a deified mortal. Perhaps Horace himself oscillated between the two meanings; his later commentators do not appear to have distinguished them.
---

Facts and Information About the Roman Empire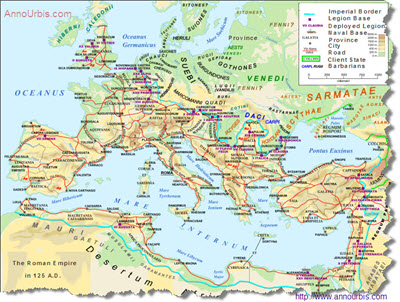 This site is dedicated to bringing you information about the wonder that was the Roman Empire and how its legacy still shapes our history, our language, and the foundations of our society and its institutions. The Roman Empire endures!
The City of Rome was traditionally founded in 753 B.C. by our calendar. The Romans measured their calendar from the foundation of the City, or "Anno urbis conditae". By their calendar, today is Anno Urbis ("The Year of the City") 2773.
The Roman Empire at its greatest extent comprised most of western Europe, the Middle East, and North Africa. Larger than even most modern nations, the empire was held together by a network of roads, a common language, and most of all a culture which still today exerts a powerful influence on our society and institutions, over 1600 years after the fall of Rome. No other empire or civilization has had such a lasting and significant impact on the modern world.
Roman Empire - Texts and Resources
More Texts About the Roman Empire ....
Sponsors: