Home
>
Latin Authors and Literature
>
Horace
THE ODES AND CARMEN SAECULARE OF HORACE
Home
|
Prev
|
Next
|
Contents
---
BOOK III, ODE 5.
The fields we spoil'd with corn are green.
The later editors are right in not taking Marte nostro with coli as well as with populata. As has been remarked to me, the pride of the Roman is far more forcibly expressed by the complaint that the enemy have been able to cultivate fields that Rome has ravaged than by the statement that Roman captives have been employed to cultivate the fields they had ravaged as invaders. The latter proposition, it is true, includes the former; but the new matter draws off attention from the old, and so weakens it.
Who once to faithless foes has knelt.
"Knelt" is not strictly accurate, expressing Bentley's dedidit rather than the common, and doubtless correct, text, credidit.

     And, girt by friends that mourn'd him, sped
                  *   *   *
     The press of kin he push'd apart.

I had originally reversed amicos and propinquos, supposing it to be indifferent which of them was used in either stanza. But a friend has pointed out to me that a distinction is probably intended between the friends who attended Regulus and the kinsmen who sought to prevent his going.
---

Facts and Information About the Roman Empire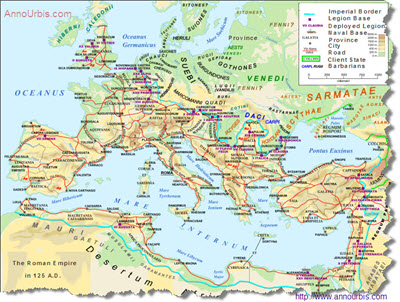 This site is dedicated to bringing you information about the wonder that was the Roman Empire and how its legacy still shapes our history, our language, and the foundations of our society and its institutions. The Roman Empire endures!
The City of Rome was traditionally founded in 753 B.C. by our calendar. The Romans measured their calendar from the foundation of the City, or "Anno urbis conditae". By their calendar, today is Anno Urbis ("The Year of the City") 2773.
The Roman Empire at its greatest extent comprised most of western Europe, the Middle East, and North Africa. Larger than even most modern nations, the empire was held together by a network of roads, a common language, and most of all a culture which still today exerts a powerful influence on our society and institutions, over 1600 years after the fall of Rome. No other empire or civilization has had such a lasting and significant impact on the modern world.
Roman Empire - Texts and Resources
More Texts About the Roman Empire ....
Sponsors: