Home
>
Latin Authors and Literature
>
Horace
THE ODES AND CARMEN SAECULARE OF HORACE
Home
|
Prev
|
Next
|
Contents
---
BOOK IV, ODE 4.
I have deranged the symmetry of the two opening similes, making the eagle the subject of the sentence in the first, the kid in the second, an awkwardness which the Latin is able to avoid by its power of distinguishing cases by inflexion. I trust, however, that it will not offend an English reader.
Whence in every field

They learned.
Horace seems to allude jokingly to some unseasonable inquiry into the antiquity of the armour of these Alpine tribes, which had perhaps been started by some less skilful celebrator of the victory; at the same time that he gratifies his love of lyrical commonplace by a parenthetical digression in the style of Pindar.
And watchful potencies unweave

For them the tangled paths of war.
On the whole, Ritter seems right, after Acron, in understanding curae sagaces of the counsels of Augustus, whom Horace compliments similarly in the Fourteenth Ode of this Book, as the real author of his step- son's victories. He is certainly right in giving the stanza to Horace, not to Hannibal. Even a courtly or patriotic Roman would have shrunk from the bad taste of making the great historical enemy of Italy conclude his lamentation over his own and his country's deep sorrow by a flattering prophecy of the greatness of his antagonist's family.
---

Facts and Information About the Roman Empire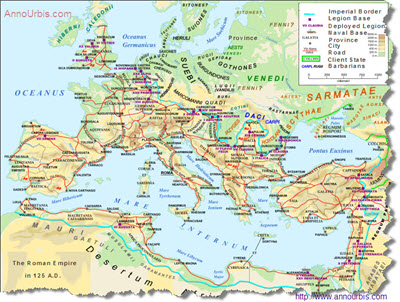 This site is dedicated to bringing you information about the wonder that was the Roman Empire and how its legacy still shapes our history, our language, and the foundations of our society and its institutions. The Roman Empire endures!
The City of Rome was traditionally founded in 753 B.C. by our calendar. The Romans measured their calendar from the foundation of the City, or "Anno urbis conditae". By their calendar, today is Anno Urbis ("The Year of the City") 2773.
The Roman Empire at its greatest extent comprised most of western Europe, the Middle East, and North Africa. Larger than even most modern nations, the empire was held together by a network of roads, a common language, and most of all a culture which still today exerts a powerful influence on our society and institutions, over 1600 years after the fall of Rome. No other empire or civilization has had such a lasting and significant impact on the modern world.
Roman Empire - Texts and Resources
More Texts About the Roman Empire ....
Sponsors: